Personal Income Tax Credits AVAILABLE NOW!
We have tax credit scholarships available NOW for qualified taxpayers who want to redirect your personal income tax to fund what is important to you. Your window to participate is now until the tax credit cap is reached or past the reservation deadline of October 15, 2019. Children's Tuition Fund of Pennsylvania Scholarship Partners, LLC is a Special Purpose Entity managed by ACSI's Children's Tuition Fund. To check status of available credits call us at (412) 466-1919 or email DifferenceMakers@cornerstoneprep.net.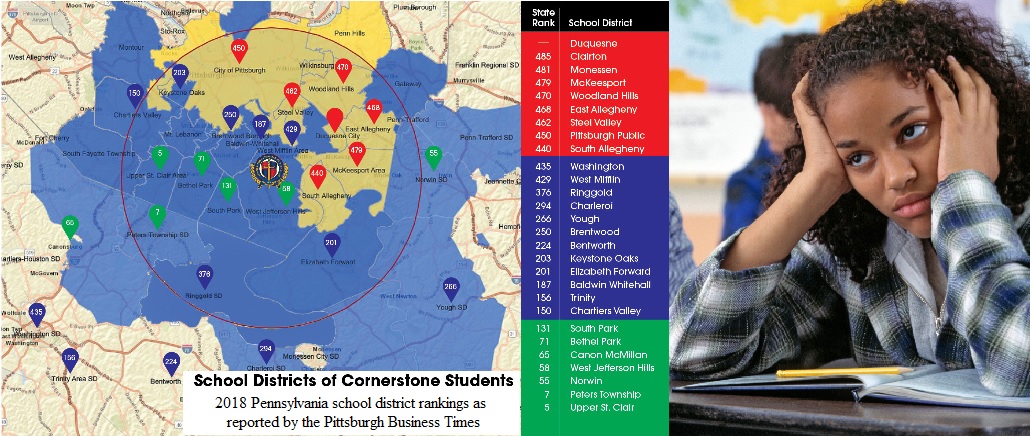 PA PERSONAL INCOME TAXPAYERS- Choose to PAY LESS TAXES and turn your savings into scholarships for lower to moderate income students in your communities to attend private schools of their choice.
Some live in the boundaries of the state's lowest performing schools, and desire a safe, more challenging academic setting where they can excel.
Other income qualified students excel best in schools with specific programs, learning styles, and school cultures that are more compatible with their needs.
How it works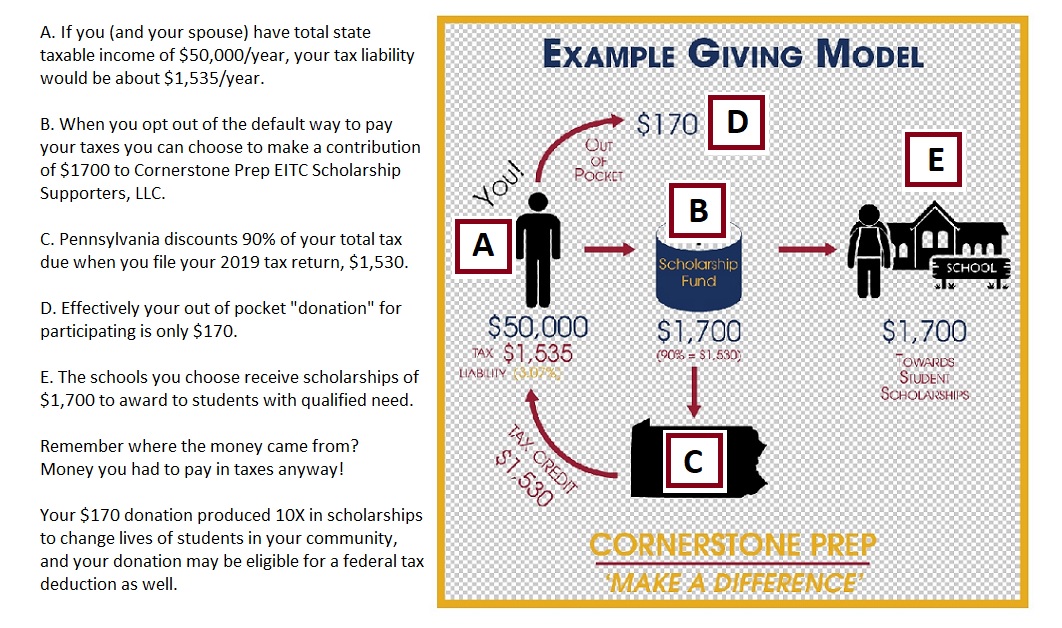 Federal charitable contribution benefits vary by taxpayer. Consult your tax professional for specific guidance. For a sample to see the potential difference between a taxpayer who itemizes deductions and one who does not Click here
MAKE A DIFFERENCE for Students in 3 EASY STEPS
1. Determine your contribution amount
Estimate your 2019 PA income tax liability (what you owe). If you expect income similar to 2018, use the amount on your last tax return (PA 40, line 12). The minimum tax liability to participate in this program is $1,000/year for 2 years.
Calculate an estimated amount to contribute. To receive maximum benefit multiply your tax liability X 111%. Contributions must be between $1,000 and 111% of your tax liability.
If unsure of your estimated PA tax amount, please consult your tax professional for advice.
2. Reserve your tax credits
Send an email to DifferenceMakers@cornerstoneprep.net or call us at (412) 466-1919. Tell us you want to participate and we will send the electronic enrollment request form (Joinder) and simple instructions about how to reserve and use your credits.
When you fill out the joinder, you designate Cornerstone Prep to receive your scholarships on your enrollment form and tell us if you prefer your contribution to remain anonymous.
Approved/completed Joinders are sent to ACSI's Children's Tuition Fund (CTF) for final approval and processing, and ACSI will inform you of your credit reservation. CTF is an experienced, approved scholarship granting organization, whose role is to manage the organizational and financial responsibilities of the Children's Tuition Fund of Pennsylvania Scholarship Partners, LLC.
3. Submit your pledged contribution as soon as possible, yet not later than October 15, 2019
Make your donation securely online by ACH or by check, for processing by October 15, 2019. Check mailing instructions are sent via email with your Joinder.
What's Next?
CTF mails state and federal K1 forms to contributors.
Contributors submit the K1 with 2019 tax returns and request a refund of prepaid Pennsylvania taxes, if applicable.
First year contributors are automatically enrolled for the same amount of tax credits for the following year.